Welcome Back Dancers!
Posted: August 09 2016
Happy August Dancers!!!
Hope you are as excited as I am about the upcoming Dance year! Thank you for registering -- we have an AWESOME year planned for you!
Don't forget to come see us at the Meet and Greet on Monday, August 22nd from 5-7 pm at the Central Christian Church on South Main St. Classes start the following week on August 29th!
Wear dance and or athletic clothes to class, have your hair up and out of your face (ponytail etc) and wear dance shoes (if they still fit) or tennis shoes! Oh and don't forget your SMILE!!!
Lastly, feel free to share about Just for Kix and invite your friends!
See you soon dancers! Love, Nika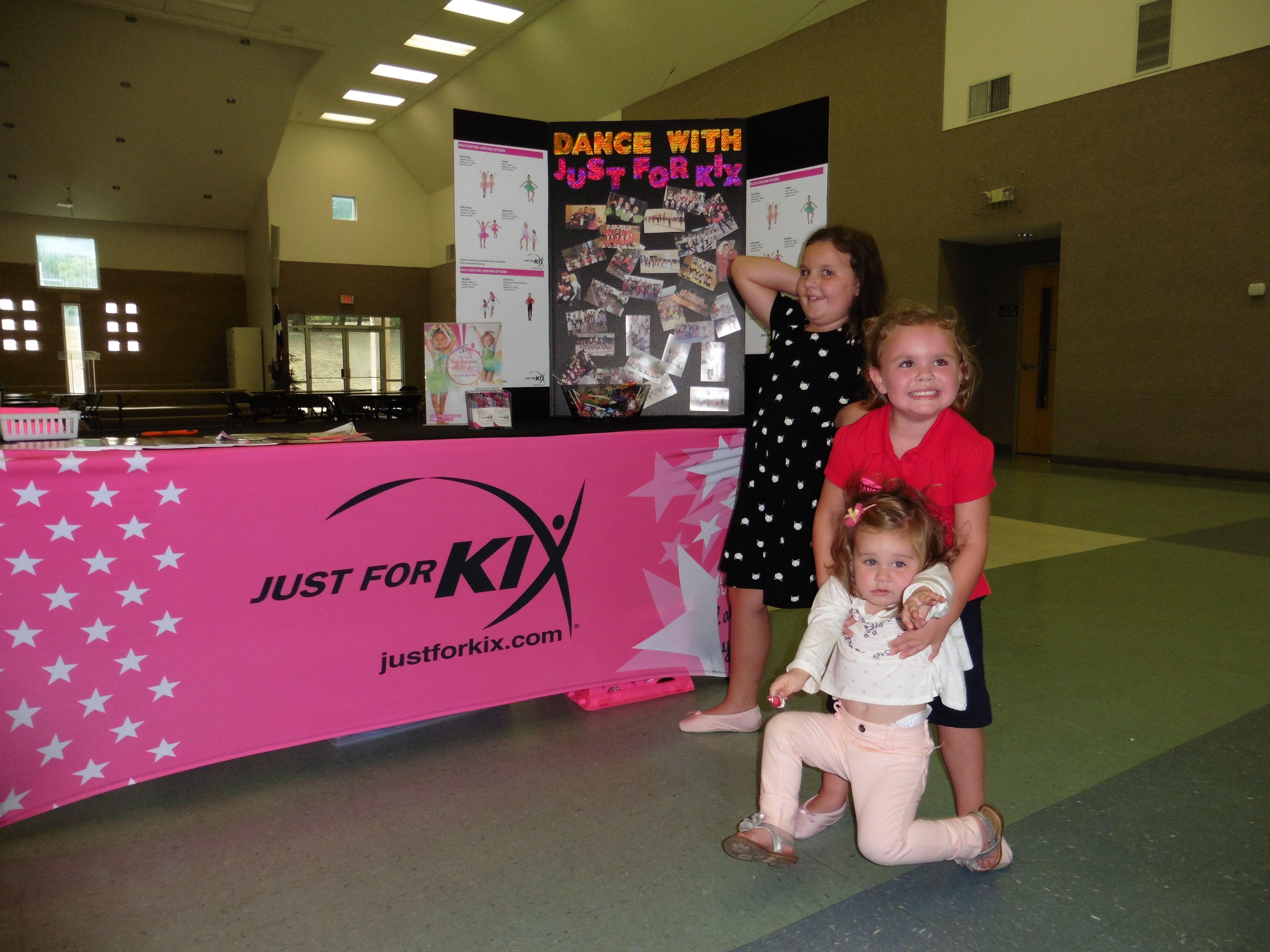 Spring Show Info!
Posted: May 01 2016
Hi JFK Family!
Here are some last minute details to help you prepare for Monday, MAY 2nd and our End of the Year, SPRING SHOW! PLEASE READ!
1) Show is at the TEXAS OPRY THEATER--319 York Ave. in Wford.
Dancers arrive at 5:30 fully dressed with hair and make-up complete. We will rehearse on stage for 30 minutes.
Doors for FAMILY/FRIENDS open at 6:00. Please allow the dancers to rehearse before you come in--we want to surprise you!
From 6-6:20, please check your dancer for final hair/make-up and RR break!
Tickets are $8 for adults and $5 for students ages 6 years through 12th grade. Children 5 and under FREE--DANCERS FREE!
Show starts at 6:30 pm. It will last approximately 1 hour.
2) There will be a few items available for sale at the show--just FYI:
1) SPRING SHOW SHIRTS--$12 each
2) Professional VIDEOS OF THE SHOW--$23 to order (includes shipping and handling). Order form attached.
3) CONCESSIONS: Texas Opry will have light snacks and drinks available. PLEASE DO NOT LITTER IN THE THEATER. THANKS!
**We will NOT have flowers for sale. You are welcome to bring your own flowers for your dancer if you like.
3) Don't forget to register for 2016-17 classes! It really helps us plan for classes for next year and will insure your dancer's spot. Several classes this year maxed out and we don't want your dancer to miss out on another great year of dance! Also, don't forget that we have classes in Weatherford on Mondays and Aledo on Tuesdays. Several different options are available if one day works better than another and we offer a couple of different classes in each area! classes.justforkix.com
4) Lastly, THANK YOU FOR A FANTASTIC DANCE YEAR! We try very hard to provide a quality dance program as well as have fun and offer a variety of performance opportunities. Next year will be awesome too!
Memo 4-25-16
Posted: April 25 2016

1) BULLETS GAME PERFORMANCE! ALL classes will be performing APRIL 30th at the Weatherford Bullets Semi – Pro Football game halftime at Kangaroo Stadium. Game time is currently set for 7 pm and we will perform at halftime (about 8:00). Wear your JFK costumes and have dancers ready to perform by 7:30. We will practice a short run through before the performance. HAIR and make up the same as basketball game performances. Dancers get in free and admission charge for friends/family is $10 adults and $5 students.
***WEATHER: Right now the weather forecast is good! BUT…. I will send out an email and post on FACEBOOK (Just for Kix-Weatherford) if the game is cancelled for any reason!

2) Weatherford JFK Spring Show is Monday, May 2nd at the TEXAS OPRY THEATER at 319 York Ave. TODAY IN CLASS IS THE LAST DAY TO BUY ADVANCED TICKETS!! ($25 for 4 tickets.) Tickets at the door on May 2nd will be $8 for adults and $5 for students (6 years thru 12th grade). Children 5 and under are FREE. Please let friends/family know that there is a charge for the show.

***Showtime will be at 6:30 PM. Dancers arrive at 5:30pm. DOORS for spectators will open at 6 pm. HAVE DANCERS DRESSED AND READY TO GO AT 5:30. BUT YOU CAN DO LAST MINUTE TOUCH UPS AND RR BREAKS FROM 6-6:30!

3) Registration for the 2016-17 dance year is NOW OPEN! Reserve your dancers spot with Just for KIx for next year by MAY 1st and you will be eligible for 2 drawings---ONE FOR A FREE MONTHS TUITION TO BE GIVEN AWAY ON MAY 2nd AT THE SHOW AND ONE FOR A FREE IPAD MINI FROM JFK. We LOVE dancing with your student! PLEASE SHARE WITH FRIENDS TOO! Classes.justforkix.com

Memo 4-18-16
Posted: April 18 2016
We are 3 weeks away from today for our Friends and Family Spring Show and Weatherford Bullets game performance! Here is some info to help in planning!
Saturday, April 30th: Weatherford Bullets game. 7 pm Kick-off. ALL classes perform at halftime (about 8:00) Wear your class uniforms, light make-up and hair in buns (Teeny, Tiny, and Wee Petites) or pony tails for Wee Kix, Mini Kix and Hip Hop. Have dancers ready to perform at 7:30. Dancers get in FREE and spectators are $10 for Adults and $5 for students. Game is at KANGAROO STADIUM (1007 South Main St).
Monday, May 2: Spring Show: Texas Opry Theater on York Ave. Dancers arrive at 5:30 PM. Doors open for the public at 6 pm. SHOW STARTS at 6:30 pm. Wear JFK costumes, make-up and hair.
TICKETS: Presale tickets available at class for discounted price. 4 adult tickets for $25. CASH OR CHECK MADE TO JUST FOR KIX. Student tickets for $5 (6 years thru 12th grade) and individual tickets for adults-$8.
Show shirts will also be available at class and night of the show! $12
2016-17 Dance Registration AVAILABLE NOW! Save your dancer's spot for classes next year! Everyone who registers by MAY 1st will be entered in a DRAWING FOR A MONTH FREE TUITION to be given away at the show.
You will also be entered in the JFK drawing for an IPAD MINI! Don't mIss out and make sure the classes don't fill up without your dancer. Next year will be another amazing year!

Pic info and more! 2-15-16
Posted: February 16 2016
Here is some important dance info:
PICTURES: Here is the link (I have also emailed it to you!)
Weatherford Just For Kix pictures: Just enter your email address and view pics!
https://vando.imagequix.com/g1000395754
Weatherford College Basketball Performances: Save the Dates!
Teeny KIx (3), Tiny Kix (4), Wee Petites (K-1st) and Wee Kix (2nd-3rd) will perform at WC on Saturday, Feb 20th. Teeny and Tiny's perform at 2:00 pm game halftime (arrive at 1:30). Perform about 2:45. Wee Petites and Wee Kix will perform at the 4 pm game halftime. Arrive at 3:30 and perform about 4:45-5 pm. Wear your costumes with hair and make-up ready at arrival. Teeny/Tiny/Wee petites—hair in bun. Wee Kix… high Pony tail!
***NO ADMISSION FEE charged for dancers OR parents! Just tell them you are with JFK!
SAVE THE DATES:
Monday, March 14th: NO class for Spring Break. No make-up—this date is built into our schedule already!
Saturday, April 30th: Perform at TEXAS BULLETS halftime at Kangaroo stadium. Times and details TBD.
Monday, May 2nd: JFK Friends and Family Spring Show at the Texas Opry on York Avenue. Show starts at 6:30 pm with dancers arriving at 5:30 pm. Doors open at 6 pm for spectators.