There is still time to join!
Posted: September 20 2016
Sign up today with the Hinton Just For Kix. We would love to have your dancer join!
We offer kick, hip hop and other special sessions during our 8 month season with various performance opportunities throughout the year. For more program information visit our website: https://www.justforkix.com/danceclasses/hinton-ia/
I strongly encourage you to go online and register for our season. It will such a fun and memorable experience!
We are asking that if at all possible you do your registration online. classes.justforkix.com
If online registration is not an option for you there is a mail is process listed in the registration packet. (Allow extra time for processing.)

Online features Include:
· Family Login: One login now for your whole family. Add as many dancers to your family account as you would like.
· Recurring Payments: With Recurring Payments, your monthly bill is automatically charged to the credit/debit card you specify. No more late fees!
· Registration Fee is a $16.00 annual fee for the first participant in the family and $9.00 for each additional family participant.
· Receive $1 discount per month per class when 4 or more months are paid in advance.
Monthly Class Fee Changes for the 2016-2017 season:
Class fees for a 45 minute to 1 hour class will be $31.00 a month.
Class fees for a 30 minute class will be $28.00 a month.
If you have any questions regarding the fees, please let me know.

Class Information for Pre-School (Age 3-5):
Pre-School (Ages 3 to 5):
There will be two Tiny Kix classes next year, both ages 4 to 5. Your dancer must be 4 by September 1st in order to participate these full season classes.
For dancers age 3, we will be having three sessions of six week classes this next season.
(Please see class schedule for dates and times.)
The three sessions are listed as three separate classes when registering online. If you plan to participate in all, you will need to sign up for all.
Please note, the Teeny Kix (3 year old session) will have the same uniform for both the Winter & Spring sessions but it will only be used for 1 year. For the fall session, uniforms will not arrive in time, so we will be wearing a Halloween costume from home of your choice.
For any questions, feel free to contact Bree Vonheeder at hinton_ia@justforkix.com or 712-301-3555.

Half-time Football Performance
Posted: September 20 2016
The Hinton JFK will be performing half-time of the Hinton High School football game, Friday, October 21, 2016 at Held Sporting Complex.
Classes Performing: Wee Petites (1st), Wee Kix (2nd-3rd), Mini Kix (4th), and Junior Kix (5th-8th).
Admission: $5.00 per person. Dancers that are performing get in for FREE.
Dancers need to be ready to practice at the start time of the game; 7 PM.
Parents, check you e-mail for more information.
We are excited to perform a SWEET routine! ;)
Hello Parents!
Below is some information on our half-time performance.
Reminder, there is a mandatory field rehearsal from 8:00-9:00 AM on Saturday, October 15, 2016.

Tutu Tots Academy
Posted: August 10 2016
We are introducing the new TuTu Tots Academy!
We created a revolutionary curriculum that will give your preshoolers the ultimate fun time while learning the basics in dance.
Using colorful and fun learning tools, the class will let your dancers discover the joy and passion for dance. You will see growth in the areas of communication/expression, cooperation, self-control and self-esteem.
Preschool classes are filling up so reserve your spot today!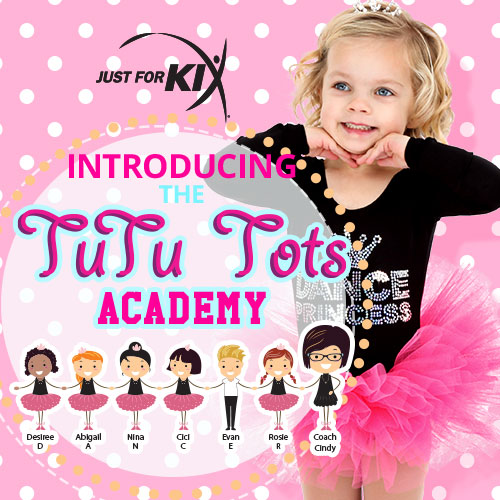 How to Register Online
Posted: April 26 2016
How To Register… NEW Students

1. Go to: classes.justforkix.com

2. Click on "Sign Up" in the Upper right hand corner.

3. Click "Sign up now"

4. Create an account - Steps 1-3
This will be your family account. You should enter the parents/guardian information here. There will be a place to register individual students later.

5. Do a search on your Zip Code.
Only classes that apply to your child(ren) will show up in the listing. You can further filter the search by day/time or you can search by the course number listed by the class in the registration packet.

6. Add classes and uniform piece that you would like to register for and order. You can check out all at once at the end of the process. Registration and first month payment due at time of registration.

How To Register … Existing Students
(If you have been in the program you already have an account even if you have been mailing in your payments, call the home office if you do not know your login information.)

1. Go to: classes.justforkix.com

2. Click on "Log in/sign up" in the upper right hand corner.

3. Log in with email and password. If you do not know the email you used to set up your account, contact the home office.

4. Click "Edit profile" to make changes to address phone, email or to add an additional email.

5. Click "My Classes" and then Sign up for more classes.

6. When ordering uniform select a size for the item then click "add to cart" for each individual item. When you have added each piece click on your cart and proceed to checkout.
Note: If you registering a new sibling, you will use the same account. Click on "Add Registrant" to add new sibling.
If you are unable to log into your account, please contact Director, Bree Vonheeder.
Download